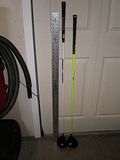 Bought HOF ultra in X flex from Neil and installed it (logo in TV position per Robert at HOF) in an Alpha V2 8.5 I got from Dave. I did not trim at all just put a cheap grip on it.
Had no expectations when I took it to the range, all I knew was that it was long. Pic shows a 48 inch ruler.
I thought there was no way I could hit a shaft that long. After I flattened out my backswing I found I could hit it straight and started to have fun. The shaft is truely point and shoot. Very stable and easy to load. With a smooth swing I found I could hit it straight without problems.
Next test is to take it to the course so I can get an idea on distance with real balls. But for a first test is all I can say is WOW and double WOW. I can see myself going to the range just to hit the driver but don't look for me to challenge Bobby Wilson.